Meet the faces behind Lubdub - A group of women with a
common drive to give back to our community.
Marketing & Customer Experience Lead

Chloe is a multi-talented mother, entrepreneur, and lead of our marketing and customer liaison teams. With over 10 years of experience in luxury retail, Chloe has been an invaluable asset to the team. When she's not crushing goals in every role, she loves to read, travel and eat at the hottest new spots. Chloe also has BSc in Psychology from the University of Calgary, which you can just add to the list of her accomplishments. Check out her event planning company CNC Event Design, where creativity meets organization.

"When the dream is big, the game changes."
- Kobe Bryant
Luz founded Lubdub after years of creating apparel items for herself and the medical team she worked with. She has two degrees - a BSc in Biological Sciences and a BScN from the University of Calgary.
Luz was a NICU nurse at a Level 3 site for 12 years before taking Lubdub on full time in March of this year. She hopes to be right back there once the balance of Lubdub and NICU feels possible but is happy currently pouring her everything into the shop. Her vice is rippled chips with dill pickle dip.

"You miss 100% of the shots you don't take" - Wayne Gretzky -Michael Scott
- Luz Alvizurez
Retail Production Assistant

Mafi is the bright and wonderful personality responsible for making and fulfilling each individual collection order. When you open your retail package, you now know who decorated and packed it (we use a lovely team from a sister company to make your unit pieces). She is never found without a smile on her face and her attention to detail makes her such a perfect asset to the team.

Mafi is a big foodie and would be happy to recommend places for you to eat.
She has watched all the Harry Potter movies and identifies herself as a Hufflepuff.

"You are the flower that blooms by itself, for itself, for yourself. Keep growing"
- Algedonic by R.H. Sin
Executive Assistant and HR Liaison
Maria is a strong asset to the team with over 30 years of experience as an Administrative and Executive Assistant. She is one of Lubdub's biggest supporters and helped pack orders with Luz in the first few months of opening the shop.
Maria ensures that all the small business requirements are ticked off and is a Microsoft Office pro. She is the first one to like every one of Lubdub's Facebook posts and has a guilty pleasure of Spanish telenovelas

"Our greatest glory is not in never failing, but in rising up every time we fail."
Ralph Waldo Emerson
We pinch ourselves on a daily that we have Maria's talent on the team. Maria is a trained graphic designer, having graduated from the Alberta University of Arts in 2021. She is the one that creates your custom unit designs and making sure your personal unit listings go live. Maria is as bright of a light in her personality as she is talented.
Maria comes from a big family of health workers - half of her aunties, uncles, and cousins are doctors! She also loves musicals.
"Seek discomfort and embrace chaos"
- Ryan von Hagen & Charles Bell
Organized a Unit Order before? Meet Megan, the kind and helpful person you have been chatting with. We often get feedback about how wonderful she is to connect with and it's never suprised us to hear it. She genuinely cares about the people she connects with, including our awesome Team Organizers.
Megan recently moved to Whistler and works for Lubdub remotely but we can feel her bubbly personality in every chat or email. We sometimes even get to video chat with her pup Fuji! She can also lick her elbow.

"Don't worry, be happy"
- Bobby McFerrin
Naomi was the second team member to join Lubdub and is now the manager of the Retail Production Department. She treats Lubdub like it's her own baby and this translates in the quality of service that Lubdub brings to health-care apparel. She is so incredibly hard working and a huge reason why Lubdub has grown to where it has in these short two years.
Also, it has been 4 months and her landlord has yet to fix her dishwasher. Just in case he happens to read this.

"My mind is going a mile an hour"
- Michael Scott
Vicki was the first person to join Luz at Lubdub. Together, they would fulfill all the orders from their own homes. Her attention to detail and organization is the reason our Unit Team Order process runs so seamlessly. It also helps that she has had over 10 years of experience with group orders in a sporting goods setting.
Aside from her incredible contributions to the team, she's also incredibly fun to be around. Vicki's favorite TV show is Friends and she is adamant that pineapple on pizza is delicious.

"That's what she said"
- Michael Scott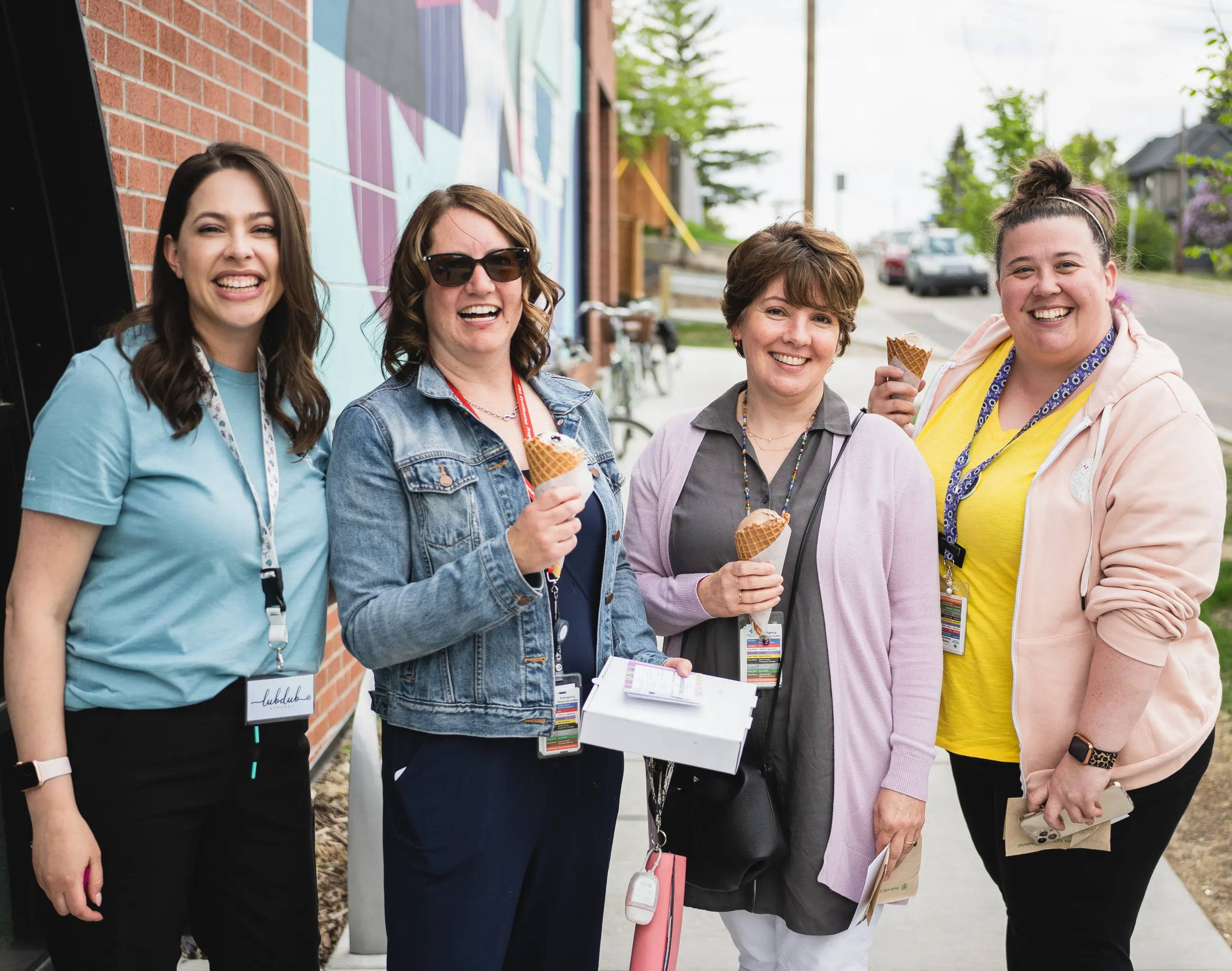 Team Work
Each of our team members has their strengths and we celebrate them together. We support each other with our professional and personal goals and as a team, we create awesomeness.
Customer Experience
You deserve to receive quality products that can carry you through a
HARD day at work and a customer service experience that recognizes this. If we fail you, we want to make it up to you, and STAT.

Community
Our health-care community is in need of SO much more. We promise to advocate for you and support this important community. We focus so much on "taking care of" and we deserve to be taken care of too. Visit our Community page for more information.
SHARE STORIES WITH FRIENDS